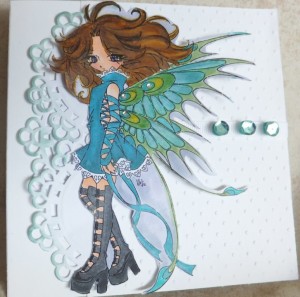 Hello all
Today I am up on the Make it Crafty site, to show you my latest for the (C&S) Clean and Simple challenge. For this challenge I used the lovely image of "Elven Samenah" Digi Stamp from , I love her wings! The products that I used are Copic markers, my fav, some grosgrain ribbon, some bulk "sparklies" and a couple of Martha Stewart doilies. Not much to it really, you could probably make this beauty up, from your stash. Just download the image and away you go.
I love to make C&S cards for a couple of reasons. One I just love to colour. Two, keeping it simple means that with just a few extra embellishments you card is done in a snap. Three, your card can be placed into a standard sized envelope and can travel via your regular post, with the normal postage!!!! Therefore keeping down the cost for everyone, yeah more money left to spend on… Digi stamps, yeah!!!!!
Until the next challenge, keep your pencils sharpened, your Copics filled and your stash stuffed so that you too can just download and you are ready to play.